I am in love with Tonya Parker. Read her post and find out why. Give it the time it needs to receive all the abundance you can from it.  Hers are power words. Please receive these powerful words and use them.
---
I delivered this sermon on Sunday, March 5, 2017 at Takoma Metaphysical Chapel, an interfaith spiritual community located in Silver Spring, Maryland. I have been a member since 2006, and have served on its Board, various committees, and healing and message-bearing teams. Our Senior Minister is Reverend James (Jim) Webb, esteemed minister, author, spiritual life coach/counselor, psychic intuitive, channel, and one of my spiritual mentors. We use many sacred texts as part of our services, classes, and workshops, and the book A Course in Miracles (ACIM) is one of our primary sources. "Rev Jim "leads a weekday morning ACIM call, and I have been in regular attendance on the calls for the past three years. I have come to truly appreciate the teachings of ACIM, published by The Foundation for Inner Peace.  Per its website, ACIM is "a unique, universal, self-study spiritual thought system that teaches that the way to Love and Inner Peace is through Forgiveness." I pray that the reader receives a blessing in this message Spirit guided me to speak:
Last Sunday Rev Jim spoke on Preparing for Prosperity by clearing our mind, clearing our heart, and clearing our energy. As we pray, today we call on the most high Mother, Father, Everything God, great creator, great healer, dwelling within us all. We invite you further into this space, asking for your loving healing grace in clearing our mind, our heart, our energy to prepare for prosperity in its many forms, including the message you would have me share today. We are open to receive, as you shower us with the blessings of your love, your light, your wisdom, your grace, and all else we need to come out of hiding to shine brighter to reflect you. Let it be so, and so it is.
Frank Kafka wrote, "All that you are seeking is also seeking you." But what if what we seek or desire—we'll call it–our prosperity–is having trouble finding us?
Anyone ever have that feeling? Somehow, there is some barrier, some cloaking technology, some bushel that is blocking our prosperity from seeing us clearly and finding us. And, contrary to popular belief, suppose that barrier is not because of something someone else constructed. Suppose…we are the source of that barrier. We built it ourselves. And prosperity cannot find us because we have hunkered down behind that barrier. We went into hiding. Anybody in here know about hiding?
I'll speak for myself. I've spent years in hiding! The barriers we construct may look different depending on the person or the circumstances. For some, it may be a moving barrier, as we run away, ducking and diving for cover when light shines our way. For others, it's being silent as we quietly put on a cloak of invisibility…we can hide by not stepping up, and letting others step into the limelight…we also hide when we live a lie, allowing others to see an incomplete or false representation of our true selves…and still others may hide through playing small, playing safe, playing in the comfort zone.
Well, I confess I've done them all. Trying to be nice. Trying to be a people-pleaser. Trying not to rock the boat, tip the boat over. Trying to stay humble and not get a big head. Trying to allow everyone else to shine. Trying to play it safe. Trying to ignore the call of the wolves. Trying to ignore the voice of Spirit. Over and over and over again. Listening to the tapes recorded from childhood and adolescence, through various schools, from various jobs, relationships, and experiences over the decades of life. Adding layer after layer of covering over my Light.
I'll dare to say that we all have hidden in some way at some time in our life.
And when we hide, H-I-D-E, we Help Insanity Dictate our Experiences…instead of let prosperity find us.
Before I share some insights to help us come out of hiding, I'm going to share with you a couple of personal examples of my hiding. When I went off to the College of William & Mary in Williamsburg, Virginia my initial GPA may not have shown it, but I was an overachiever. Over the course of 10 years there, I earned four degrees: a BA in Sociology, an M.Ed in Agency Counseling, an EdS in Professional Counseling, and then what I thought was the most important–an MRS. Yep, I snagged me a husband from the law school there and got married in the chaotic midst of the blizzard of '93, with a plan for my happily-ever-after as Mrs. Tonya Parker-Hopkins. However, there was one little problem. I was running away from, and staying silent about my attraction to other women. Just a little hiding, a little helping insanity dictate my experiences. So, I did what many of us do. I swept my feelings under a rug. When you keep sweeping things under a rug, they don't go away. What happens? You just get a pile that grows bigger and bigger until it's impossible to ignore.
I began to learn the lesson: that which we resist persists. Remember that if you have on CNN 24/7, and follow every move of the President, and curse him and call him names on social media. Energy flows where attention goes, so you are feeding an energy and helping it grow, or perpetuate. But I digress. I was feeding an energy, helping it grow and perpetuate. My pile under the rug grew so big that first I kept creating new paths to move around it. But that still fed it–because actively trying to avoid something is still spending energy on it. And then I began to trip over it, because it was constantly there. That was no fun, either. After the death of my father, I did some soul searching, some healing work, and acknowledged it (me), learned to honor it (me), and made a choice to come out of hiding, live my truth, and let prosperity find me. No more helping insanity dictate my experiences—at least in that situation.
Here's the second example of my hiding: When I was a senior at Rappahannock High School in Warsaw, Virginia, we took one of those career inventories. I received three results based on my interests and aptitude: social worker, landscape architect, and minister. I followed a social work-related career path for many years—as a children's case manager, a mental health therapist, a prevention specialist, and a crisis worker. Now, I never did go into landscape architecture, but I certainly have fed my affinity for Earth mother through foods, herbs, essential oils, and crystals. What about that minister thing, though?
My mother's father was a minister—both my grandfathers and my step-grandfather transitioned before I was born, so I never felt that connection with my maternal grandfather. Essentially, it was a fact written on a genogram–like a therapeutic family tree–for my Marriage & Family Counseling class.
That minister thing kept trying to show up, though. I would scratch my head when my former officemates kept turning to me to pray at our countless potlucks. No big deal–not everyone is comfortable praying out loud. Other little clues popped up over the years, but I was good at looking the other way. Let's fast forward to 2007, when, I began cooking for Iyanla Vanzant, Rev. Jim and the faculty of Inner Visions Institute for Spiritual Development. For most of the three years I cooked, different faculty members would strongly invite me to enter the program. And I had checked in with Spirit, and was clear, I wasn't to do that. At some point they stopped trying to recruit me for the program and started telling me, "You've now completed your first year, your second year, your third year. But I wasn't listening to all those spiritual folk. I had enough on my plate juggling being a healer, a teacher, a writer. A minister?? Ain't nobody got time for that.
But at some point, I realized everywhere I went, someone was calling me Minister Tonya or Reverend Tonya. I always corrected them. I once even had a gentleman walk up to me at Pathways Natural Living Expo, bow and pronounce "high priestess." Not listening. Even when my partner entered and graduated from University of Sedona and became a minister, bringing it into the house, I still was running and hiding.
Then Spirit decided to be a bit more obvious. When we don't listen to the whispers, Spirit responds with a roar. So when I attended our Psychic Fairs and received readings, I was called to ministry, or reminded that I have been doing the work for years, and it was time to stop hiding, acknowledge it, and own it. Very shortly thereafter, on what seemed like a random day in July of 2016, I heard it was time. It reminded me of a Monopoly game—you get the "Go straight to jail card": "Do not pass Go, Do not collect $200." I was instructed: do not enroll in Inner Visions, University of Sedona, The New Seminary, or any other seminary or program—various paths taken by sooo many of my beloved friends and spiritual family members. Unless I really wanted to. I was to look online and be guided.
Sure enough, I was guided to Universal Life Church, and right then and there, released the resistance, and with a few clicks of the keys, said "yes" to becoming Reverend Tonya Parker. And then said nothing. Maybe it was embarrassment at my online ordination—essentially buying a credential without doing the work. But that argument didn't hold up, because Spirit reminded me that there's nothing about my life experiences, education, training, and mentoring that remotely relates to not doing the work and receiving the anointing. Therefore, I was still hiding—helping insanity dictate my experiences.
Now, I eventually told a few people, hid it in my monthly newsletter, updated the blurb hidden on my Tonya D Parker fan page on Facebook, and still hid in plain sight. That is, until October 15, 2016 when I got a reading from Rev Jim at the Fall Festival. We filled his house that night and had amazing healers and message-bearers. Rev Jim was one of mine. There we were, in his master bathroom, and Spirit spoke through him, calling me out as a minister, basically telling me to come out of hiding, stop covering my light with a bushel, and be the minister that I am. God got jokes. I fessed up to Rev Jim, and the jig was up.
Next thing you know, he is on our morning A Course in Miracles Call saying "Rev Tonya" even when I haven't introduced myself on the call in that way. But nobody seemed to pick up because he had been one of the ones periodically calling me Rev Tonya in the first place. But I got a little bolder, told a few more folks, and allowed myself to be introduced in that way in a couple of settings. But still small.
So, we come to a month ago, when Rev Jim called me and said it was time for me to deliver the message here at chapel. The Tonya of the past would have said, "Well, if Rev Jim believes I'm ready and I can do it, I must be, so I'll do it–kind of like he broke through my resistance to teach Reiki back in 2011." This time, Rev Tonya, Tonya of God, Tonya who remembers, and acknowledges the Christ-light within, knew it was time to come out of hiding. I said yes, not because he knew I could do it, but because I knew I could, and it was time.
Since saying yes, prosperity has been able to find me, because I am no longer hiding my light. Doors of opportunity have been opening left and right, and I am so grateful for the blessings that come when we say yes to our Divine light. Thank you God for showing up over and over again in a myriad of forms and a multitude of people. All that I was seeking was also seeking me–I just had to cast off the bushel that was hiding my light, and align myself with Spirit, so I could be found. Amazing grace, how sweet the sound, that saved a soul like me. I once was lost, but now I'm found. Was blind but now I see!
There are so many feeling lost right now, so many blinded by distractions, parlor tricks, alternative facts etc. It's creating a cloaking, a darkness that can be hard to see through.
This current social, political, and cultural environment is now calling for us to come out of hiding.
It's time to stand firmly in place, speak up, step up, live our truth, and BE the great light that we are so that we can shine through the darkness and attract prosperity not just for ourselves, but also for our sisters and brothers.
As metaphysicians, we know that we are all connected. We know that we are part of a collective consciousness. We know that we are One with Mother-Father God, Great Spirit, the Universe, Infinite Intelligence, the I AM essence. So, when others suffer, we all suffer. When others are oppressed, we all are oppressed. When others are denied their rights, we all are denied our rights. When others have barriers placed, blocking their prosperity, we all have barriers placed, blocking our prosperity. We need to understand that we are not just our brother's keeper–we are our brother and our sister! ACIM says God's will for me is perfect happiness, and it can feel so hard attaining that happiness in full when we look around and see and experience isms and injustice, prejudice and pain, phobias and fear, hate and harm.
I don't know about you, but that feels more like haplessness, helplessness, and hopelessness rather than happiness. That's why I call on ACIM yet again and ask God to HELP me see things differently! Help ME see things differently. Help me SEE things differently. Send in the light. Send in the lights. Help us Shine bright and show we are ready to attract our collective prosperity.
Prosperity is more than what's in our bank account. I am a writer, and I love words! I am always looking up synonyms in a thesaurus. When I looked up the word, "prosper," two of the synonyms spoke to me: to bloom, and to flourish. Of course , since we are in the month of our Spring Equinox, I began to think about a major element needed for flowers to bloom and our plant life to flourish. Light! When green plants receive light, a process called photosynthesis is triggered, using sunlight to synthesize foods from carbon dioxide and water.
In basic terms: Add light, create sustenance. Add light, create growth. Add light, create abundance. Add light, create prosperity.
When we come out of hiding and are in alignment with our truth, when we are aware of our light, when we take off that bushel and reveal that light, we begin vibrating at a level where we become One with the divine flow, and are able to attract our highest good. We are able to bloom, and flourish.
We attract the type of love we desire, we attract that ideal work experience, we attract the home we want, we attract the funding for our projects, we attract the contacts needed to take our creations to the next level. We attract whole health and vitality, and yes, we attract MONEY–My Own Natural Energy Yield—currency—an energetic flow into our bank accounts, our gold accounts, our bitcoin accounts, our stock portfolios.
And in this lightened, enlightened state of prosperity, we touch people in ways we can't imagine. We move others from inaction to action. We inspire others to step into their light. We lift others up on our shoulders and prosperity can see them more easily. And like attracts like, and light attracts light, and if enough of us are moving in this pattern, dancing this dance, tripping the light fantastic, vibrating at this level of consciousness, we reach a critical mass, creating a tipping point into this state of prosperity for all. Envision this world where we all prosper, we all bloom, we all flourish in a multitude of brilliant and beautiful ways, as varied as the flowers blooming and flourishing over in Brookside Gardens.
Let's be clear, not everyone is able to see through this lens. Some will continue to see separation–from God, from our fellow humans, from nature, from herself. But all we need is for that unknown great number to awaken and come out of hibernation, to come out of hiding.
So how do we do this? I have three points.
First, we must remember and acknowledge the truth of who we are and whose we are. Second, shine our light into our internal cracks and crevices. And third, just let our great light shine.
Remember and acknowledge the truth of who we are and whose we are. How many messengers does it take to change a light bulb? Rather, how many messengers need to be sent to this Earth plane for us to remember our Divine light? Buddha, Mohammed, Jesus? How about every person we've encountered in our life? As quoted in the beautiful responsive reading by Sri Swami Satchidananda, whom I had the pleasure to meet years ago before his transition, "God, Help us see that same Light, the same spirit dwelling everywhere in everything…as everything."
I grew up in the Baptist tradition, and was told the light was something separate, residing in and represented by one person—Jesus. Jesus was an amazing lightbearer and way-shower. However, I now know the Christ light dwells inside us all. Even in the Hitlers, the Jeffrey Dahmers. In the Trumps and Pences. Even in you, me. It may be cozily residing in some deeply hidden cracks and crevices, but it's there.
Many of us grew up and came through life putting on a pedestal those we considered holy. We had an amnesia of sorts in which we lost sight of the truth of who we are. We bought into the belief that we are sinners, wretches, abominations—lowly men and women who needed saving. We seem to have this attitude about presidents, too—waiting for someone to save us. Well in case you have forgotten, I will remind you. YOU are holy! You are the light. You are the savior. And so are THEY. Because they hold up a mirror and give us plenty of opportunities to see our EGO at work, where we are Edging God Out. Thank you God, for helping me see things differently, using those we often see as other to be our teacher.
So, In case you have forgotten, I will remind you. In case you have forgotten because the trauma of going through the birth canal was too much, I will remind you. In case you felt your memory was stripped away along with your innocence, I will remind you. In case you've forgotten because you've been repeatedly bruised and battered by words, fists, or circumstances, I will remind you. As Rev Jim reminded us last week on our ACIM call: There is an indwelling power of God that connects each of us to the Universal power of God. So, I will remind you, if this Universal power of God is full abundance, and we are connected to God, then therefore so are we. We are abundance. We are abundance. We prosper. We bloom. We flourish. It is in our spiritual DNA. As Rev Jim says, there is no lack where God is at. It's not grammatical, but it's right; there is no lack where God is at. The Christ light dwells inside us all.
Now, a word of caution…Just because we remember who we are doesn't mean we acknowledge it. Many are still in hiding, as Marianne Williamson wrote in A Return to Love:
"Our deepest fear is not that we are inadequate. Our deepest fear is that we are powerful beyond measure. It is our light, not our darkness that most frightens us. We ask ourselves, Who am I to be brilliant, gorgeous, talented, fabulous? Actually, who are you not to be? You are a child of God. Your playing small does not serve the world. There is nothing enlightened about shrinking so that other people won't feel insecure around you. We are all meant to shine, as children do. We were born to make manifest the glory of God that is within us. It's not just in some of us; it's in everyone. And as we let our own light shine, we unconsciously give other people permission to do the same. As we are liberated from our own fear, our presence automatically liberates others."
When we come out of hiding and remember who we are and whose we are, and acknowledge our light, prosperity will have a better chance at finding us, AND our sisters and brothers.
Now that we remember and acknowledge our light, let's Shine that light into our internal cracks and crevices.This is powerful healing work that ain't for the faint of heart. And we're being called to do the work. No longer can we point a finger at others—we know too much—we know we'll have three fingers pointing right back at ourselves. Shining the light within not only allows us to closely examine our stuff, but also heal our stuff…and take responsibility for what we have been creating.
Thank you Donald Trump for becoming President. Because in the ensuing darkness, we are being forced to turn on the light, and shine it within. What we see reflected is that the devil didn't make us do it. Our parents didn't make us do it. Our boss didn't make us do it. Our boo thing didn't make us do it… Looking into your internal cracks and crevices, what do you see just waiting for healing light to transform it? Is it pain? Lack? Shame? Doubt? Judgment? Abandonment? Fear? Not enoughness? Too muchness? Is it a belief that God is so far away and doesn't have love for you?
Just breathe… connect to the God within…and send light to that hidden place of hurt. Invite this mistaken belief to come out to receive even more light, more love, more healing. Do this once, twice, as many times as you need to in order to transform it. Talk to it and remind it of the truth. Talk to God, and pray for the healing. Write a request and leave on your altar for your ancestors, angels, and guides to help heal. Work within your energetic system and shift it through tapping. Work with a coach or therapist. Pay attention and affirm everything unlike it that appears—once again, energy flows where attention goes. And be in gratitude for it. We can more fully appreciate the beautiful, glorious light when we've been in a place of darkness. So shine that light in those dark cracks and crevices, and give thanks.
Finally, just let your great light shine. It's not a little light. Trust me, I can see from this vantage point an amazingly brilliant light emanating around you. That's why we will sing this great light of mine, I'm gonna let it shine. Speaking of songs, Elton John sang "Turn on your heart light, let it shine wherever you go." I learned this lesson—I had on my heartlight and let it shine. Others knew before I did that I didn't have to call myself "Rev" to minister. Neither do you. We are all the ministers of God. We are beautiful, unique, individual manifestations of the great light. And when Dominion Power, Baltimore Gas and Electric, and PEPCO lose power, we don't. No matter what circumstances we encounter in life, we got the power to keep shining our light. Turn on your heart light, let it shine wherever you go. If you work in the Post Office, shine your light! If you work in real estate, shine your light. If you fix cars, shine your light. If you counsel others, shine your light. Shine your light as you take classes, walk in the park, write books, do hot yoga, go grocery shopping. Every breath is an opportunity to connect deeper, shine brighter, and serve as a beacon for those who are seeking more. Every breath is an opportunity to connect deeper, shine brighter, and serve as a beacon for prosperity to find us. And when it finds us, we shine brighter, and attract more light to us, and create a world of spiritual photosynthesis where when we add light, we create sustenance, in many different forms.
In closing, let's all Come out of hiding and no longer Help Insanity Dictate our Experiences. Let's remember and acknowledge our light. Let's all shine that light in our cracks and crevices for healing. After that, it will feel effortless to just shine our great light wherever we go. And when we are shining our light, we help create a world where we all bloom, we all flourish, and there will be no need to seek prosperity —it will be able to clearly find us.
---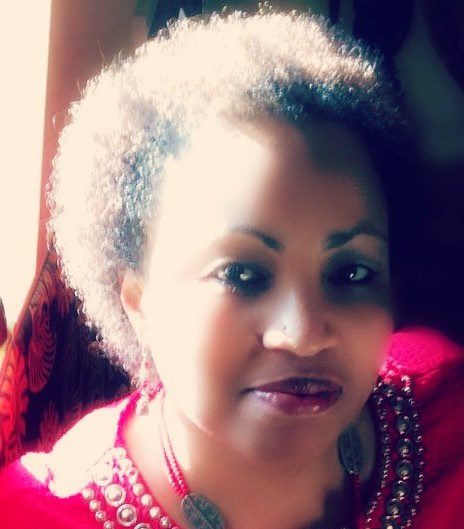 Tonya is a holistic healer (her alias is the "Throat Chakra Shaman"), teacher, writer, radio host and gourmet nourishment master who lives near Baltimore, Maryland. I met and received healing from her at a gathering there one Spring Equinox a few years ago. Her blog is here. Her book, Diary of a Witch's Daughter is here, or click on the title. And Tonya's CD, Meditative Morsels…Prayers & Meditations for Feeding Your Mind, Body & Soul is here, or click on the title.